"What have you done to this church??" proclaimed Father, the Catholic priest that will be presiding over my wedding 6 days from now.
"I know, I know, Father.  I should have asked for permission from you before we filmed the ABC Los Angeles segment in front of the church" I replied apologetically.
"You have no idea what you have done, do you?" replied Father in disbelief.
"Ummm, is there something else I did?" I replied with hesitation.
"Yes Chad."
"I leave the church on a 6 month sabbatical and this is what I'm coming back to?"
"I cannot believe it has come to this."
"I'm shocked… I'm disappointed… and frankly, I'm worried for you…"
……………………………………..
Seven years prior, I met the girl of my dreams.
Inspired by my Heisman winning predecessors, I enrolled in ballroom dancing class as a Senior in my final semester at the University of Southern California.
Just a few minutes into the first class I met Jessica, a head-turningly beautiful brunette born and raised in Southern California.  As I introduced myself, I had a lightning bolt feeling of déjà vu – I was about to dance with my future wife.
As a Minnesota native, I didn't anticipate dating for seven years before getting married.  Heck, I was supposed to have 3 kids and a black lab named Hunter by that time.
But, working grueling investment banking hours out of school left me with no time.  Subsequently, when I set out to start my own "growth hacking" consulting agency I had limited money.  By the time I had both time and money I was seven years into the relationship.
As I got down on one knee, asking the woman of my dreams to marry me, I made the love-drunk promise, "Baby, I will give you the wedding of your dreams.  Just tell me what you want and I'll make it happen."
Well, as a Southern California USC girl, the dream was a "Hollywood wedding."
Not a Hollywood themed wedding, a Hollywood wedding.
……………………………………..
The next day I started dialing venues that had hosted Hollywood award show after-parties.
The first time I asked, "How much would it cost to rent out your venue for a Saturday in June for my wedding?" the response was, "More than you can afford" followed by a dismissive LA laugh.
After a feigned chuckle, I repeated my question, "But seriously though, how much would it cost?"
"For a Saturday… in June you say… hmm… low six figures" was the reply.
"Oh… you're right… that is more than I can afford…" I sheepishly admitted.
……………………………………..
My love-drunk dialing had immediately smashed into the tree of sobering reality.
I couldn't afford a 6-figure Hollywood venue.
In fact, I spent most of my money on the ring banking on my ability to finance the "wedding stuff" in the ten months leading up to the wedding.
Unbeknownst to me, getting down on one knee wasn't just a commitment to get married, it was a blood oath for an unpaid part-time job as an adjunct wedding planner.
This unpaid part-time job was going to steal time away from building my consulting practice… which was going to make it even harder to pay for all that "wedding stuff"!
Hmm…
That's it!
I'm going to treat this wedding like the part-time job that it is!
I'm going to make this wedding my next "growth hacking" consulting client!
In that moment of epiphany I unwittingly birthed an idea that might literally be the death of me… and my fiancé… and my family… and pretty much everyone else that I love.  More on that in a moment…
……………………………………..
As I unofficially signed on the "Riddersen Wedding" as a growth hacking consulting client, my first step was to take stock of my existing resources.  Although I had limited financial resources, I had a solid digital marketing skillset and a heck of a lot of time that I was about to commit to my new "part-time job."
Hmm…
What if I could "pay" for a venue with my time instead of money?
Could I find a way to barter digital marketing work in exchange for a venue?
When I was calling on venues I came across Boulevard3.  Boulevard3 was on Sunset Boulevard in the heart of the Hollywood scene.  As the former Hollywood Athletic club, the location had hosted the first telecast of the Academy Awards.  More recently, the venue had hosted everyone from Justin Timberlake to Lady Gaga to President Obama.  The venue was beautiful, luxurious, historic, and a perennial destination of award show after parties.  Despite being an A-list hangout their digital presence was a C-.
Whether by skill or sheer luck, I negotiated an arrangement with Boulevard3 where I would cut my consulting fee in half in exchange for access to the venue on a Saturday in the heart of wedding season from 5pm to 10pm free-of-charge!
The arrangement was a win-win, Boulevard3 would get a digital facelift for a fraction of the sticker price and I would get a venue that hosted Hollywood's hottest stars… and even the President of the United States!
……………………………………..
My body was tingling with excitement, I could hardly wait to share the amazing news with Jessica and see her reaction.
As I relayed the news I smirked smugly like Mark Cuban closing an investment on Shark Tank.
"Baby, guess what?!" I exclaimed.
"What's going on Chad?  You sound like just won the lottery!" she replied with pensive excitement.
"I basically did.  We basically did.  We are having our Hollywood dream wedding at Boulevard3!  The same place that's hosted Justin Timberlake, Lady Gaga, even Obama!"
"Oh my God. Really? I'm literally, like, crying right now.  I'm so happy!" she said through welling tears of joy.
In an attempt to sneak past the fine-print details I added, "Yea, I'm doing some consulting work in exchange for 5 hours at the venue, from 5 – 10pm, on Saturday, June 27th!".
"Our 'Hollywood' wedding ends at 10pm?" she said with you've-got-to-be-joking matter-of-fact-ness.
Whether it was a punch-drunk love or fear of bridezilla folklore, I pledged to find a way to secure the venue for the entire night.
……………………………………..
When I inquired, Boulevard3 said if I could come up with $60,000 they would let me have the venue private for the rest of the evening.
With a number in hand, I went back to the growth hacking drawing board and started mapping out solutions.
The venue had a capacity of 1,000 guests and our wedding guest list was "only" 250 people.  In theory, there was an excess capacity of 750.
Hmm…
What if we invited people to crash our wedding???
$60,000 divided by 750 people… that's $80 per person.
$80 "wedding crasher tickets" for a bucket-list-worthy experience wouldn't be completely unreasonable.
What did we have to lose?
……………………………………..
Anticipating an onslaught of objections, I prepared to pitch the wedding crasher concept to my fiancé.
"Hey Babe, want to watch Wedding Crashers tonight?" I casually asked.
"We've already seen it, let's watch something else." She replied.
"I just thought it would be fun to watch wedding-themed movies now that we're engaged.  We can watch the 'Fat Greek Wedding' one you like next movie night."
"You mean 'My Big Fat Greek Wedding', haha.  That's a cute idea.  Ok, let's do that."
[2 hours and 6 minutes Later]
"I forgot how awesome Wedding Crashers is.  It's definitely one of my favorite movies!" I exclaimed.
"Oh I know. It's sooo good.  I can't wait for our wedding." She added with goo-goo eyes.
"Gosh, I just hope we have a Hollywood wedding that is as fun and exciting as the ones Vince Vaughn and Owen Wilson crashed." I ruminated.
"Yea, me too…" She said in a stressed-bride tone.
And then I pitched it…
"Wouldn't it be epic if we somehow got Vince Vaughn and Owen Wilson to crash our wedding?" I asked rhetorically.
"Yea, that would be so amazing." She agreed.
Then, over the next couple minutes, I explained the wedding crasher concept, explaining how it would allow us to have the venue for the whole night and, if we played our cards right, could even culminate with stars like Vince Vaughn and Owen Wilson making an appearance.
You can tell that we were destined to get married.  Not only did Jessica agree to my outlandish wedding crasher concept but she actually fell in love with idea.
……………………………………..
Our parents told us we were idiots.
When Jessica and I finally shared the Hollywood night club "wedding crasher" wedding plans with our parents we were met with abject horror and utter disbelief.
"Do you want drunken boys bar fighting?"
"Do you want dirty and disrespectful dancing in front of your Grandpa?"
"Do you want hooker girls trying to steal your man?"
Although the laundry list went on for several minutes, "dying" was never raised as a potential concern.  That was beyond the realm of even the craziest possibilities.
……………………………………..
Being the obedient son and daughter that we were… we completely dismissed our parent's forewarning.
That being said, we did take certain measures to reduce the likelihood of wedding day disaster.
To help prevent drunken boys bar fighting… we would have drink tickets instead of an open bar.
To help prevent Grandpa from being tarnished by dirty dancing… we would gift him a wedding day flask filled to the brim with his favorite alcoholic indulgence, Jack Daniels.
To help prevent hooker girls trying to steal me… we decided to sell "couples" crasher tickets in hopes of getting attendees that were already in a relationship.
Additionally, the wedding crashers wouldn't arrive until 10pm.  The church ceremony and five hours of the reception would still be private.  We even decided to host a private reception in my hometown in Minnesota the week beforehand.
Ultimately, we realized that we would never receive our parents' formal endorsement, but at least they were able to sleep at night knowing that "safety" measures were in place.  Kinda.
……………………………………..
With my bride's blessing and our parents… not being able to stop us, I set out to sell $60,000 of wedding crasher tickets.
For some reason, I never actually thought about how hard it would be to sell 750 tickets.
I was so caught up in preventing Grandpa from seeing dirty dancing that I hadn't spent any time thinking about how to get the crashers there in the first place.
People could go see Justin Bieber perform at Staples for the same price I was selling my wedding crasher tickets for!
How was I going to beat the Biebs?!
Is it too late to say that I'm sorry, and back out before I let anyone down?
But at this point, what did I have to lose?
……………………………………..
Time to make this wedding look better than a Bieber concert…
Instead of a traditional engagement photographer we hired a videographer to make a video "trailer" for our wedding.
Not only was a trailer consistent with the Hollywood motif, it conveniently allowed us to tell (and sell) our love story.
When searching for cinematic wedding videos we came across this video that, at the time, had been viewed by 200,000 people.  We reached out to the producer, Forrey Films, and immediately retained them to produce our trailer.  Here's the result:
P.S. If I look like I'm wretchedly uncomfortable it's because I have a wad of retail tags daggering into my bare skin.  In the words of my fiancé, my wardrobe at that time "made me look like I was still in high school" (I hadn't purchased anything new since I stopped growing in 10th grade so technically she was correct).  I'm a bit embarrassed by this now, but one of my money-saving "hacks" was made possible courtesy of  Nordstrom's generous return policy…
When it came to a wedding website I put my digital marketing skills to work crafting a site that made our wedding look like a Hollywood movie premier.
Homepage Header
(GIF)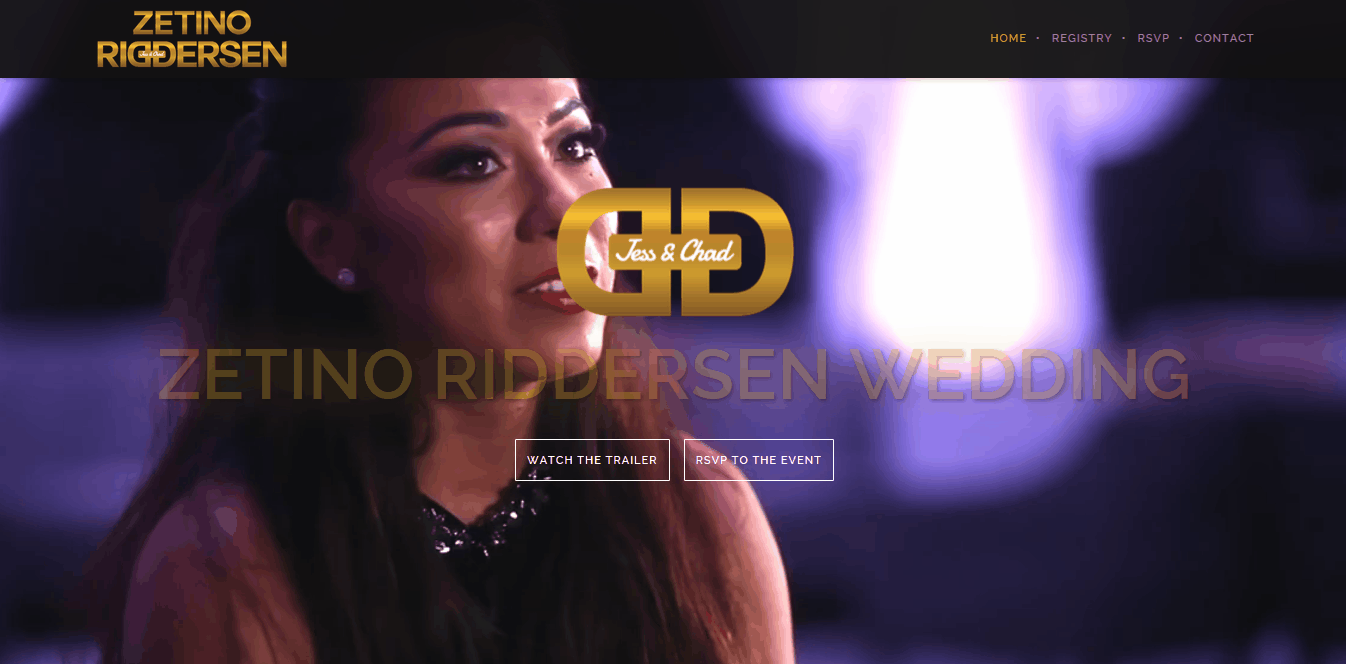 Homepage – Scrolled
(GIF)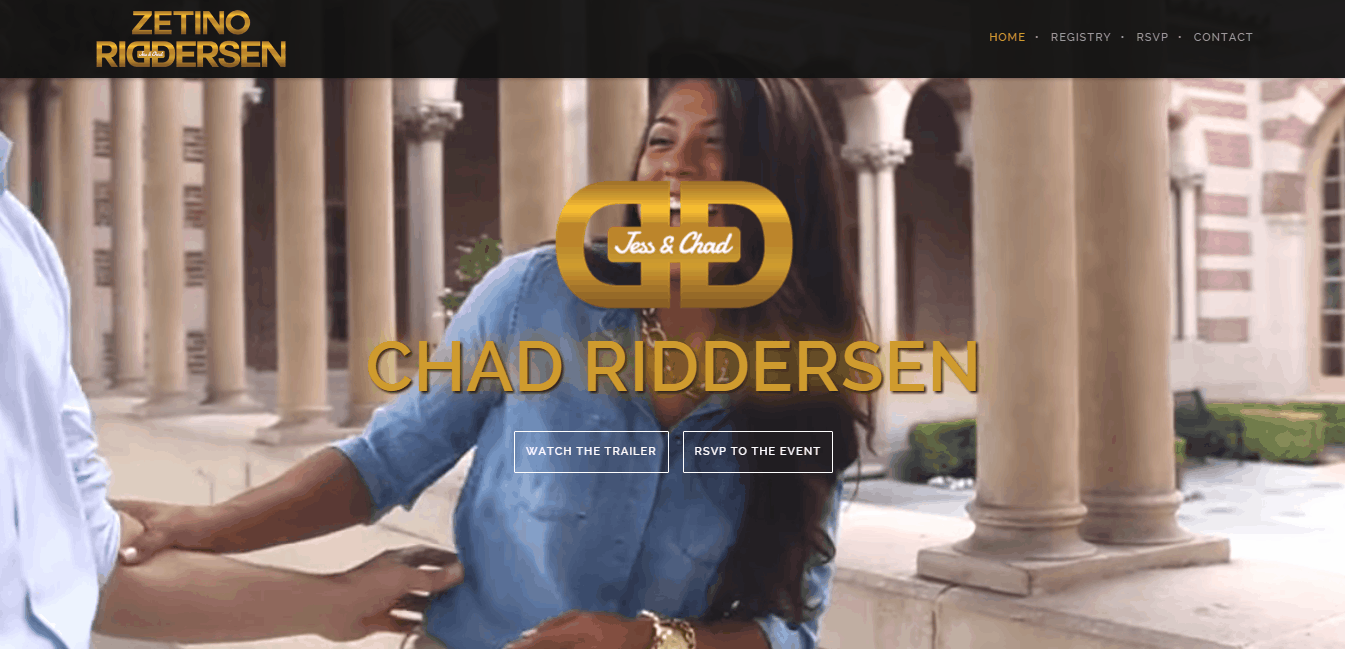 Wedding Crasher Page – Scrolled
(GIF)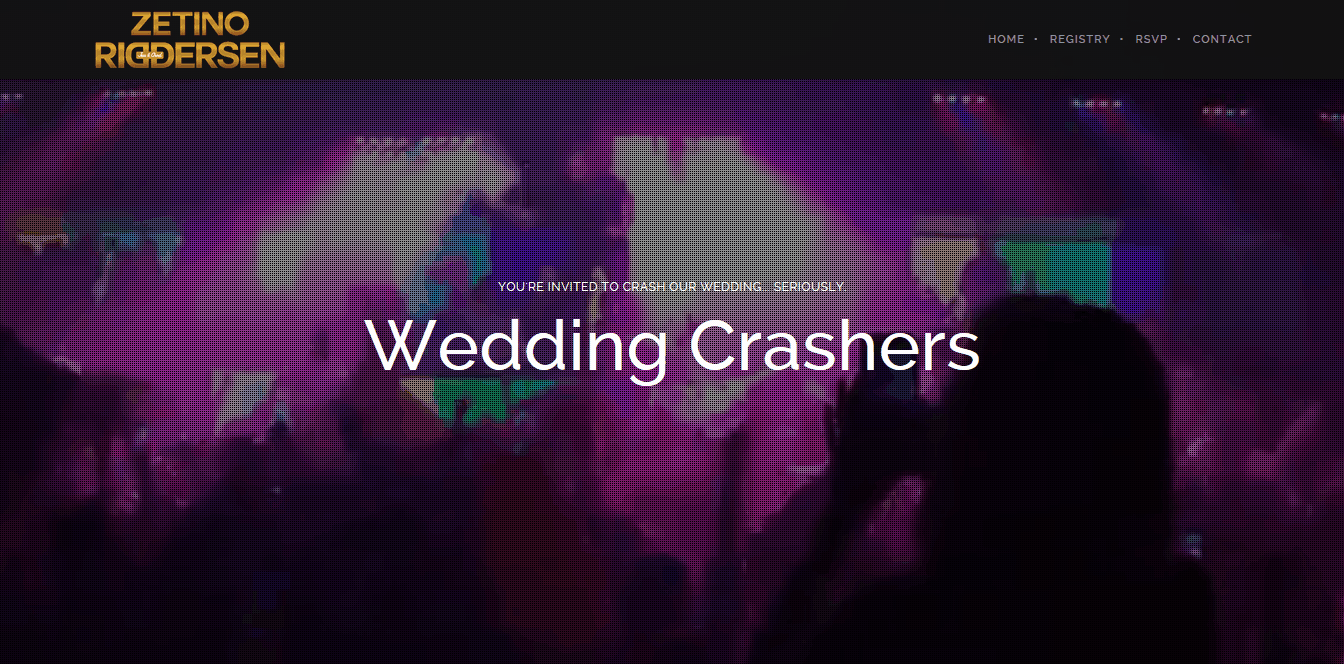 Now that our wedding looked like a proverbial million bucks, it was time to see if I could sell a non-proverbial $60,000 of wedding crasher tickets…
……………………………………..
The prenuptial wedding-themed movie marathon idea I strategically used to pitch the wedding crasher concept had been cunningly capitalized on by my fiancé as a commitment to be her Monday night Bachelor-watching buddy.
I soon found myself eagerly gossiping about whether Ashley I. was really a virgin and whether Whitney was just wanting any man who could be her baby daddy.
It's embarrassing to admit but I became a card-carrying member of Bachelor Nation.
How did this happen???
Marketing.
The Bachelor roofies you with a potent cocktail of sex, love, and drama.  As you regain consciousness you wonder where 120 minutes of Monday night went and you bizarrely look forward to doing it all over again next week.
Inspired by The Bachelor, I decided to try mixing my own marketing cocktail I dubbed "Conflict Marketing."
……………………………………..
Conflict Marketing preys on society's insatiable demand for and desire to spread drama.
As the saying goes, "The only thing that spreads faster than good news is bad news."
The inherently viral nature of juicy drama can command more attention than a Super Bowl ad, but it also has ugly underbelly.
Conflict Marketing is like media napalm, it burns hot and fast but, if not managed properly, can quickly billow out of control.
Controlling Conflict Marketing hinges on your ability to manage the "Drama Triangle."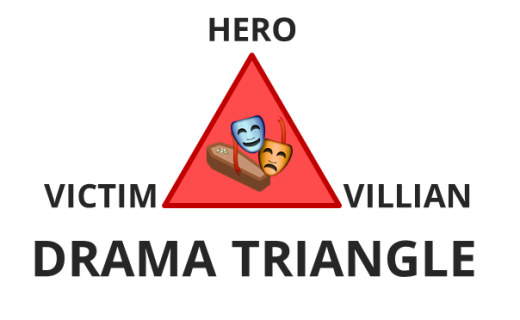 The Bachelor masterfully works the Drama Triangle and as puppet master of the melodrama they adeptly manage who America perceives as the Hero, Villain, and Victim.
The aisle of your local grocery store is a testament to The Bachelor's Conflict Marketing magic.  The magazine covers can either be a Hero's trophy or a Villain's tombstone.
Sean Lowe
Bachelor Hero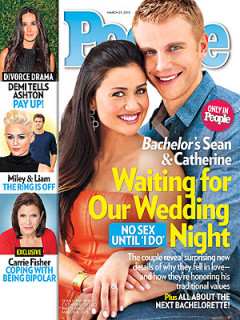 Juan Pablo
Bachelor Villain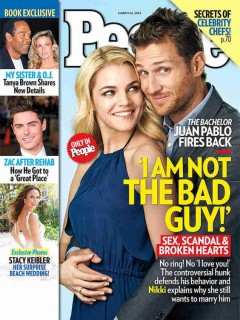 The one distinct advantage The Bachelor has is that they have control of the final cut.  After the website and trailer were complete, I was at mercy of the media…
……………………………………..
I first reached-out to the big wedding blogs, telling them a dashing love story with a tangy twist of wedding day excitement.
The Knot was the only wedding blog that got back to me saying that they don't write about weddings that haven't happened yet.
I replied to The Knot, emphasizing the wedding crasher concept in full-force, to which they responded with something to the effect of "The wedding crasher idea is insane."
Darn.
Honestly, I think there was some wedding blog conspiracy.  If you weren't throwing an antique rustic bohemian vintage wedding then you were dead to them.
……………………………………..
Screw it.
I don't understand wedding people.
I'm going to reach out to my people.
The next email I sent was to Thrillist Los Angeles and they loved it.
Thrillist Email
(Screenshot)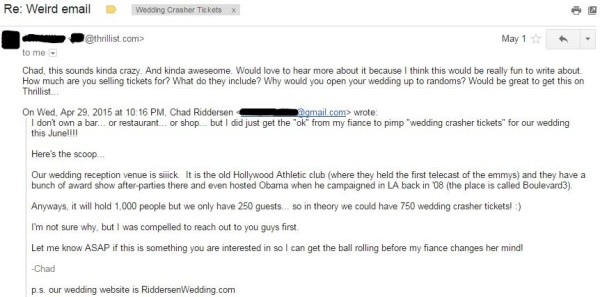 Within moments I was on the phone with one of their writers and they were peppering me with questions.
Is this for real?
How did you convince your fiancé to let you do this?
Aren't you worried about randoms showing up and ruining your wedding?
I assured them everything was for real, told them my fiancé is super awesome, but didn't really have a good answer about randoms showing up and ruining the wedding.
……………………………………..
The Thrillist article was a massive hit.
We immediately became the Los Angeles feature story which meant the article was highlighted in the email digest that went out to a quarter million subscribers.
Thrillist Feature
(Screenshot)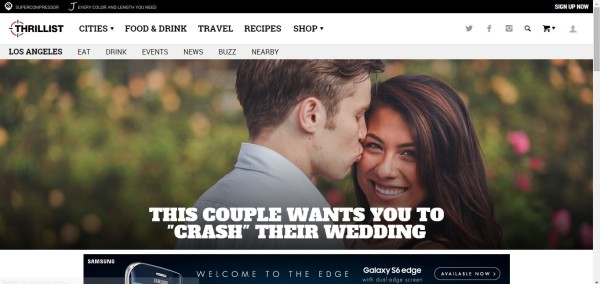 After klanking my flint and steel together to no avail with the wedding bloggers, I created a shower of sparks with Thrillist and the media napalm caught fire.
And boy did it burn hot…
……………………………………..
"Do you guys realize what awful human beings you are?" wrote Jason, a random troll that had climbed out of the middle-earth caverns of the internet.
Haters Gonna Hate
(Screenshot)

It appears Jason was looking for a way to give us some "advice on how to be better human beings" and vent about the "selfish, moronic, awful people on this planet" (i.e. me).
Out of curiosity, I Googled around to find who Jason was and why he might feel so compelled to give us advice.  The only thing I could find was Jason's profile picture…
Jason the Cave Troll
(Profile Photo)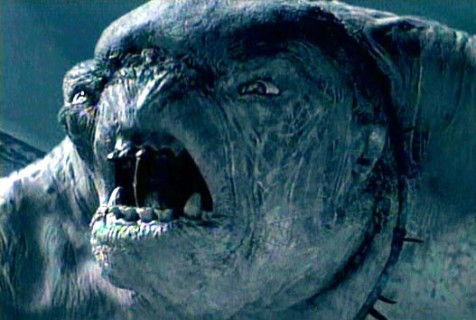 But Jason the Cave Troll was right, he wasn't the only one that thought we were "awful human beings."
I clicked on the link Jason referenced and found pages and pages of hate.
Pages of Hate
(GIF)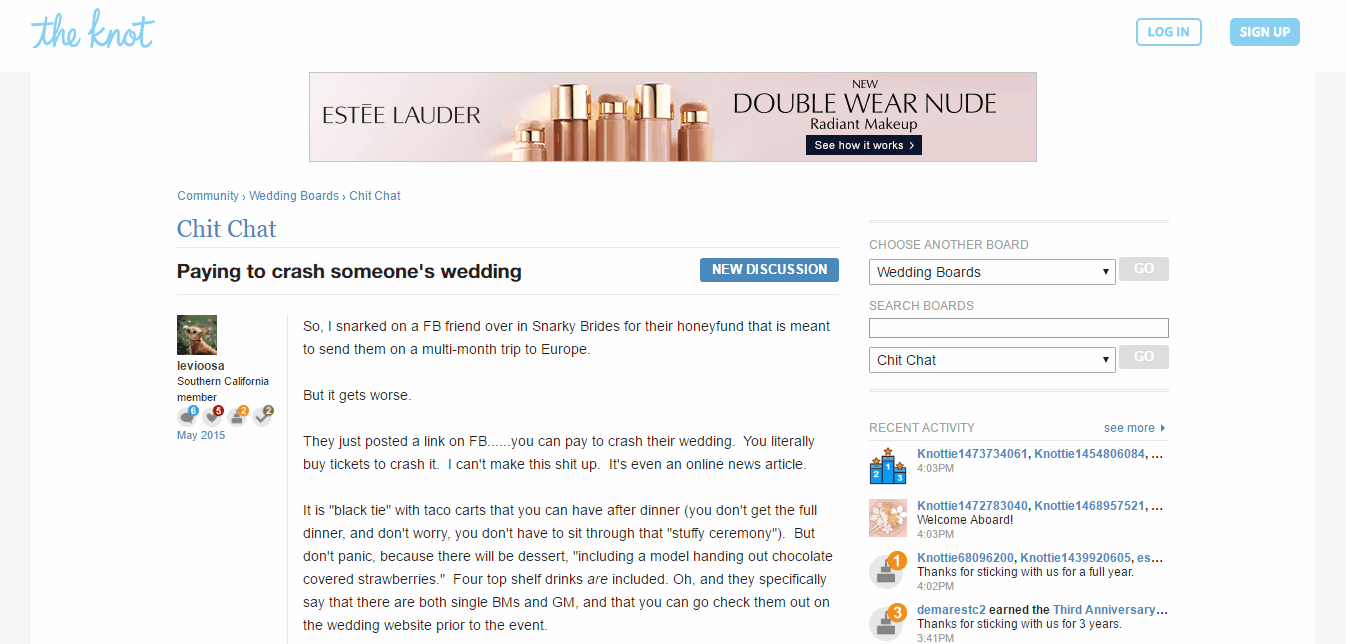 When I landed on the page I did a double-take I looked in the upper left hand corner.
THE KNOT!
I'm not sure whether it was coincidence or premeditated malevolence, but nevertheless the correlation is hard to ignore… the one wedding blog I corresponded with and thought the idea was "insane" happens to be the one wedding blog serving the haterade.
As the saying goes, when life serves haterade, make lemonade.
……………………………………..
With the Villain cast, I pitched the local news (ABC, NBC, and CBS) the drama.
Local News Pitch
(Screenshot)

5 minutes after pressing "Send", my phone started ringing.
"Hello" I answered.
"Hi, this is ABC newsroom calling for Chad Riddersen."
"Wow, you guys are crazy fast!"
"Thanks.  Am I speaking with Chad?"
"Oh right, yea, this is Chad."
"Great, we have our breaking news team out in the van and can be wherever you are in about an hour, where should we meet you?"
"Umm, meet us at Boulevard3."
"Great. Good luck!"
As soon as the call ended I dialed Boulevard3 to ask for permission to film the news segment there.  It was a Monday night so I assumed it would be completely vacant.
Unfortunately, I assumed wrong.  Matt Damon and Ben Affleck were doing a private premiere event for Project Greenlight, a show that would air on HBO later that year.
Yar.
So, I quickly cobbled together a back-up plan.
Even though the church ceremony wasn't part of the wedding crasher experience, (the church only had enough seating for our friends and family), I called them up and got permission to "film a bit for our wedding".
I left off the part about it being for ABC.
And definitely didn't say anything about wedding crashers.
I called up the ABC newsroom, made them aware of the change of location and hurried over to the church.
I didn't realize this at the time, but this seemingly small change of scenery would be the foible of our wedding day fable with deathly consequences to follow.
……………………………………..
When we introduced ourselves to ABC's news correspondent, Elex Michaelson, in front of the church we found out why ABC was so keen on filming right away.  The intention was to use our wedding crasher segment as a commercial for the 11pm news during The Bachelorette!
Filming the ABC7 Los Angeles Segment with Elex Michaelson
(Photo)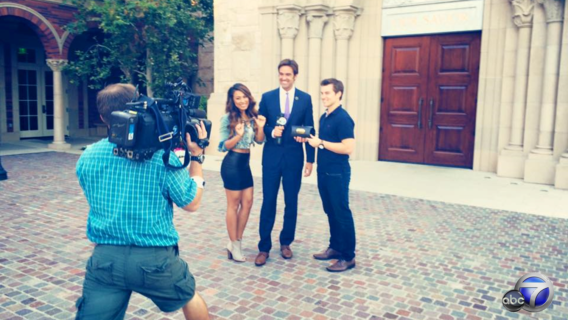 Elex happened to be a USC alum, so our shared alma mater resulted in friendly questions and a favorable final cut where we were fortunately portrayed as the Hero instead of the Villain.
As we eagerly awaited for the 11pm news I received a text from a friend in New York saying "Are you going to make me pay to go to your wedding??" and another text from a family member in Phoenix saying "I just saw you on the news!".  And the texts kept pouring in from friends and family all over the country.
We come to find out, ABC had liked the segment so much that they decided to syndicate it across the entire nation as the de facto teaser for the evening news!
ABC7 Los Angeles Segment
(Video)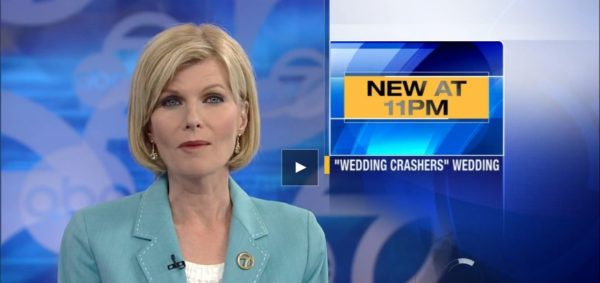 ……………………………………..
We were wholly unprepared for the media melee that ensued.
It felt like running on a treadmill where the media had hijacked the speed button and all you could do was run like the dickens and hope for a merciful deceleration… or a soft landing when you eject across the floor behind you.
When we aired on ABC in Los Angeles my wife's hispanic-ness caught the attention of a producer for Univision's morning show "A Primera Hora".  She reached out to my wife over Twitter, confirmed she spoke Spanish, and booked us to come in for an interview the next day.
Univision's A Primera Hora Interview
(Photo)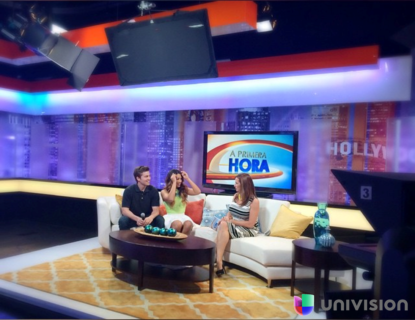 I, on the other hand, hardly know any Spanish.  In fact, I thought I was just going to support Jessica behind-the-scenes but at the last minute they thrust a microphone into my hands and said "¡Sonrisa!".
I wish I could find the video clip because you will laugh.  I sat mutely with a clueless smile plastered on my face as I played the role of token gringo husband on international broadcast television.
While the Univision morning show was wrapping we caught word that Carson Daly, (the guy who hosts NBC's The Voice), debated our wedding crasher wedding on national radio with individuals calling in to opine on the drama.
National Radio – Carson Daly Morning Show
(Photo + Screenshot)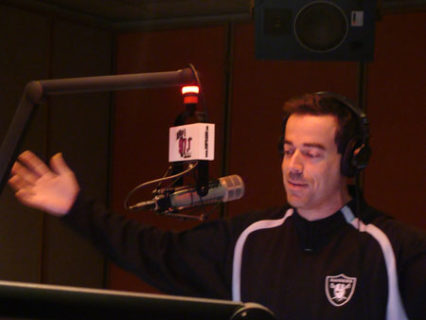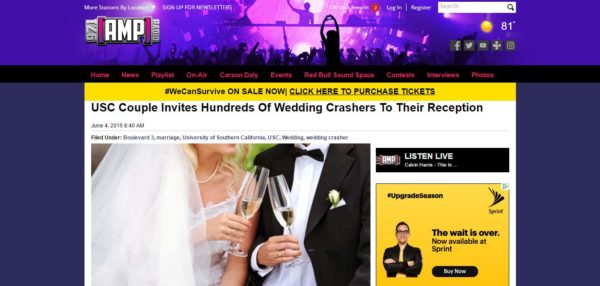 It was all happening faster than we could keep up with and the requests only continued to get bigger, and crazier.
A reporter from a German television network reached out…
German Television Network Request (RTL)
(Screenshot)

And because our segment was well-received on ABC local news, ABC Nightline reached-out to see if they could do a 7-minute segment following the story arc of someone traveling across the country to crash our wedding…
ABC Nightline Request (7-Minute Segment)
(Screenshot)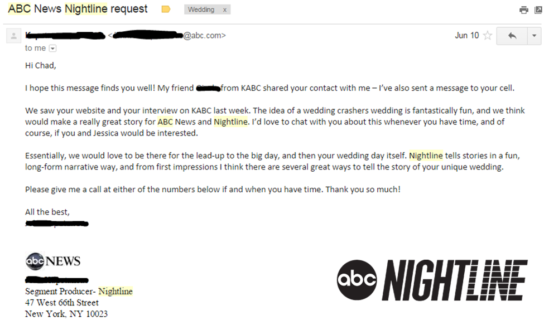 And, believe it or not, Playboy Enterprises reached-out wanting to do a documentary…
Playboy Enterprises Request (Documentary)
(Screenshot)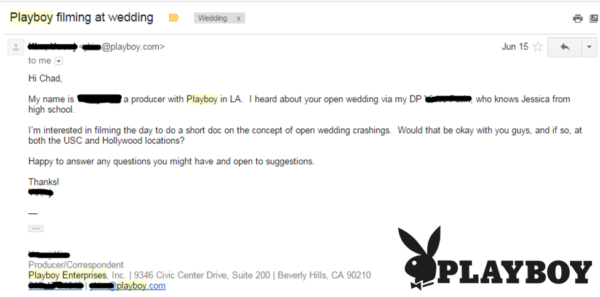 But, despite the mounting media attention, there were still several hundred tickets left to sell, and the wedding was less than two weeks away!
……………………………………..
In a last ditch effort to sell the remaining wedding crasher tickets I called up Groupon.
"Hi, I'd like to list tickets for my wedding on Groupon, would you be able to help me out?" I inquired.
"Sorry, we only list real events, thanks for calling Groupon." They curtly responded.
"No wait!  This isn't a prank, this is a real thing.  Are you in front of a computer? Go to RiddersenWedding.com" I quickly pleaded.
Groupon was hesitant, but after I showed them all the wedding crasher media build-up they were impressed, surprised, and ultimately agreed to take it on.  In fact they decided to feature the tickets in an email blast that would go out to the 1,000,000+ Groupon subscribers in the Los Angeles area.
Groupon Ticket Sales
(Screenshot)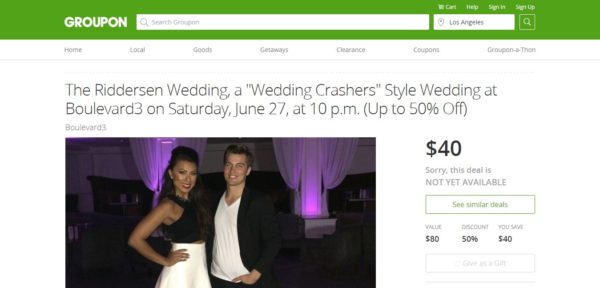 By the time all the Groupon paperwork was signed, the ticket page finished, and the email blast queued, the event was only a week away.
The email was scheduled to go out to Groupon's 1,000,000 LA subscribers the following day, but something horrible happened…
……………………………………..
"What have you done to this church??" proclaimed Father, the Catholic priest that will be presiding over my wedding 6 days from now.
"I know, I know, Father.  I should have asked for permission from you before we filmed the ABC Los Angeles segment in front of the church" I replied apologetically.
"You have no idea what you have done, do you?" replied Father in disbelief.
"Ummm, is there something else I did?" I replied with hesitation.
"Yes Chad."
"I leave the church on a 6 month sabbatical and this is what I'm coming back to?"
"I cannot believe it has come to this."
"I'm shocked… I'm disappointed… and frankly, I'm worried for you…"
Father proceeded to tell me how they had received a "threat of violence" for our wedding day and that we would have to call the wedding off.
……………………………………..
I was silent.
I didn't know what to say.
What started as a fun-loving dream had mutated into a love-crushing nightmare.
We were about to have every person we loved under one roof and I had now put everyone's life in danger.
Realizing that predicament I was in, Father decided to give me 24 hours to "fix things" on my side as he investigated the situation further on his side.
……………………………………..
The first call I made was to Groupon.
"Hey, something happened, you have to cancel the email that's going out." I blurted.
"Sorry, unless it's a life-or-death situation there's nothing I can do." the rep rhetorically responded.
"It's a death situation." I said bluntly.
"What do you mean??" She replied.
I proceeded to tell the rep the situation and although they couldn't stop the email from going out to the million people, they could prevent the page from allowing any purchases.  Thank goodness.
……………………………………..
The next thing I did was remove all references to wedding crashers on the RiddersenWedding.com website and refund everyone that had purchased a ticket.
The refund definitely caused some backlash and I felt badly for letting people down.  Below is an email I received from two individuals from Canada that had planned an international trip to Los Angeles to attend.
Two Disappointed Canadians, Eh!
(Screenshot)

……………………………………..
With the ticket situation taken care of I contacted ABC Nightline, RTL, and Playboy Enterprises.
The conversations went something like this:
"Hey, I'm really sorry to do this, but we're cancelling the wedding crasher event and may have to cancel our entire wedding."
"What do you mean??"
"Well, we had a death threat and the church is considering pulling the plug on our ceremony.  We already refunded all the tickets in order to help avert disaster."
"A death threat!  That's crazy! …can we still film?"
"What?!  Why would you still want to film?  The wedding crashers aren't coming."
"Just in case something happens."
I couldn't believe it!  They were even more excited to film the event now that there was a death threat!
I ended up just saying the wedding was cancelled in order to convince them not to attend.
……………………………………..
After pulling the plug on the Groupon, refunding all the ticket purchases, and notifying the media that the wedding crasher wedding was off, I connected with Father again.
In the interim, Father had corresponded with USC's Campus Security, (the church is situated within USC's jurisdiction), and USC Security helped investigate the threat.  Upon investigation, the threat was not perceived as a major threat.  However, in order to further mitigate the risk of anything bad happening, they said they would secure the venue and provide a strong presence the day-of.
As we say at USC, "Fight On!", our wedding was still on! (and, fingers-crossed, the only fighting on our wedding day would be metaphorical).
……………………………………..
You may be wondering what Boulevard3, our reception venue, thought about all of this.
When I told them, they responded with: "Meh, we've hosted the President of the United States, one little wedding day death threat is nothing we can't handle."
There was something refreshing about how trite a little old death threat seemed to Boulevard3.  As a death threat virgin, I realized how important it was to seek a veteran's relative perspective.
……………………………………..
Fortunately, no one died at our wedding.
And after Jessica and I survived the wedding day, we left the country to seek post-nuptial asylum in Europe for the next 3 months to escape the mayhem.
Visiting the Non-USC Coliseum in Rome
(Photo)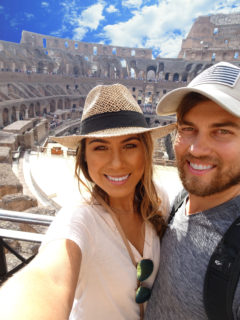 Until this article, no one knew the entire story.  Not even our parents.
In fact, we were advised to wait a year before going public with this story as it risks provoking the individual that made the threat. (Well, technically, we were advised never to go public with this story.  So, if you share this article with someone, please don't share it with anyone that wants to kill me.)
Having a year to reflect, I take away a lot from this experience:
Growth Hacking can be applied to more than just your business;
Conflict Marketing = media napalm;
Manage the Drama Triangle closely… if you don't have a Victim, it just might be you;
Don't invite the internet to your wedding, you could die;
If you find someone crazy enough to let you invite 750 wedding crashers to your wedding, marry her.